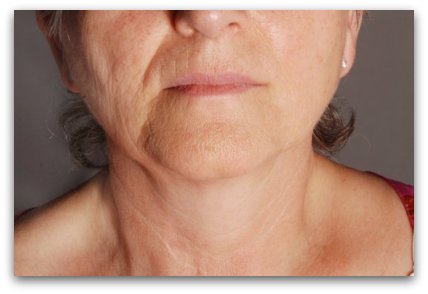 Muguette Fiat only used Glimpse on one side of her face ... WOW!

| | |
| --- | --- |
| | Only 4 days after starting Glimpse! |
For the past 8 years acne has had a grip on my life. I've tried glycolic acid, lactic acid, salicylic acid, chemical peels, facials, microdermabrasion, masks, serums, creams, pastes and powders( just to name a few). I earned a license in Esthetics, removed all metal fillings from my mouth and have drastically changed my diet numerous times in hopes of uncovering the secret to my skin problems. Thousands of dollars and many years later my breakouts are still persistent and unpredictable. Social isolation, a feeling of hopelessness and many tears are just a few of the side effects associated with chronic acne.
The first time I tried Glimpse was on a day like most others. I examined a moderate breakout around my mouth and jaw line along with very dry cheeks. I started using the product on a Friday morning and to my amazement started seeing results within the first 24 hours. My skin felt calm, nourished and for the first time in a long time...it felt GOOD! Today my skin has no flaky dryness and my breakouts have cleared by approximately 85%. It has only been 4 DAYS!!! That's right, today is Tuesday and I am filled with joy and excitement. I am thrilled with my results and simply can't wait to see what the future weeks and months will hold for me and my skin. Thank you Xango for keeping health in mind while providing the most effective skin care product that I have ever used!
Jadyn McLeod, San Diego CA
November 11, 2008
| | |
| --- | --- |
| | Only 4 days after starting Glimpse! |

Before After
Brenda used Glimpse for 5 weeks on her face and neck.
Notice the neck area, especially under her chin and around her mouth. The after pictures show the firming and tightening of the skin.
(Note - The after pictures are lighter because she stopped tanning right after the before pictures were taken.)
Before After

My name is Brenda Cook and I live in Toronto Canada. I was looking forward to using Glimpse just for the health reasons. But when Grace published her hyper pigmentation results,
I became excited to think my severely hyper pigmented neck might get results!
So I took my before shots on October 18th outside when we were walking at the Children's Wish Parade...Xango was title sponsor this year.
My after shots were taken at the 30 day mark after using Glimpse!
I have read that the skin repairs itself from the base up over 52-72 days....after just 30 days I am very pleased with the results so far. I had tried dermabrasion to no avail, and Glimpse has not only faded the
hyper pigmentation but has made the skin go from being rough (I called it turkey skin) to very smooth & soft!
Go Glimpse! Go Xango!
I can't wait to see what transpires in the next 30 days! ~ Brenda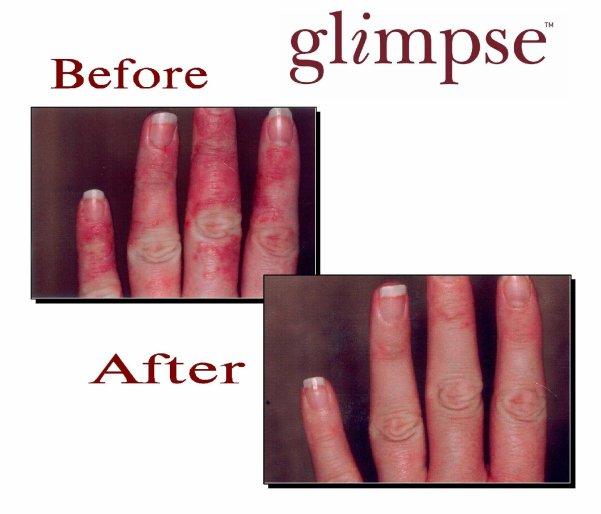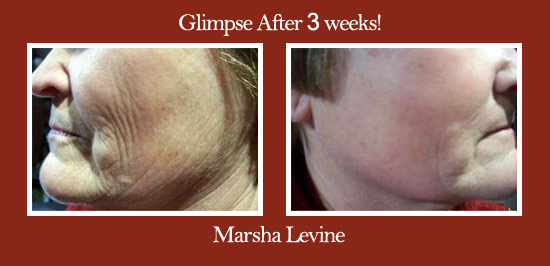 Marsha Levine Photos after 3 weeks of Glimpse use.
She treated only one side of her face with glimpse.
Wow! Look at the difference.
She gets so many comments on her face that she still has not glimpsed the other side.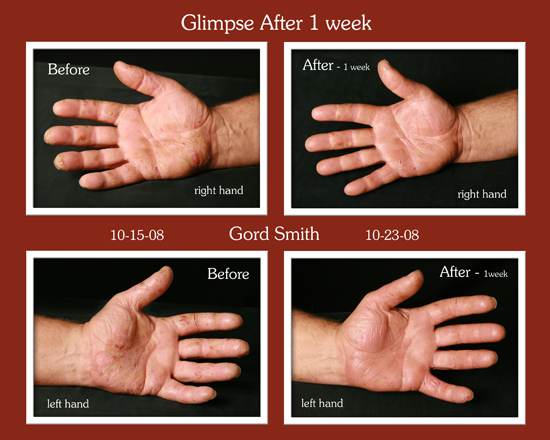 Gord Smith attended a Meeting in Grand Rapids, MI on October 9th with Dr. Templeman MD. An offer went out for one person to come forward for a sample of Glimpse who had rough hands. Gord Smith came forward for the sample. Dr. Templeman explained to me in Seattle that Gord's hands were so bad from working with cement that if you touched a paper towel to them you would see blood. He was given glimpse to take home and took these photos before and then one week after. He has suffered for fourteen years with psoriasis. Amazing.

Jerry Johnson ~ 7 year old with Eczema
We started him on the Mangosteen Pericarp oil in the 1st week of May. On the left was his arms and legs when we started him on it. In the beginning we had to use very little because we had a tiny bottle of the oil. The Pericarp oil is one of the major ingredients in all the Glimpse products. On the top right is the difference after just 2 weeks on the product.
The bottom right is after 3 weeks. This is significant because there were NO steroid creams or Cortizone creams used during this time period. Also, the Mangosteen Pericarp Oil did not burn his skin, like all lotions, creams, and medications do.
Today the backs of his legs are almost completely clear. No oozing, no itching, and no burning.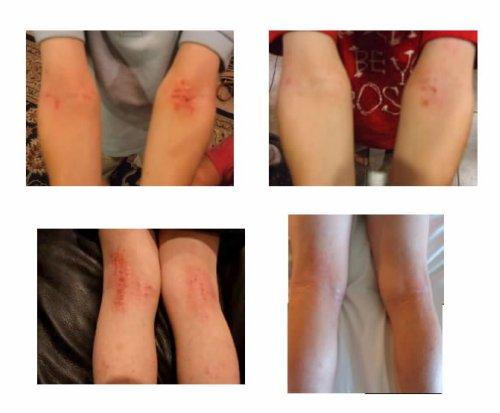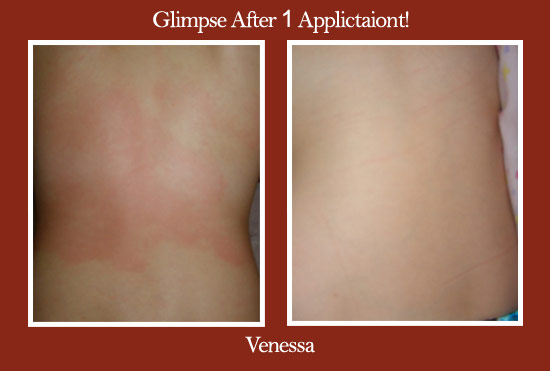 I have wonderful news--well at first it really scared us-- Vanessa was skating last night for 2.5 hours and my husband picked her up.
When she saw me she said mommy I am so itchy and she took off her skating dress and anywhere the dress had contacted her skin it was so red and swollen--plus it was going down her legs.
I remembered talking with Terry in the morning about using the gel cleanser to relieve pain & itching s0 I took out the tube and covered her body in the gel cleanser...
WELL GLIMPSE is so awesome--in about three hours it was so much better and by this morning--well see the pictures for your self.......the marks on her back on the after shot is just sleeping wrinkles
It is so amazing to see how it works....
Also Tory had glass cuts on her face from her accident and she used her glimpse since last weeks and the cuts are completely gone.....
Thanks so much,
LeAnn

Rosacea Flare Up
September 2008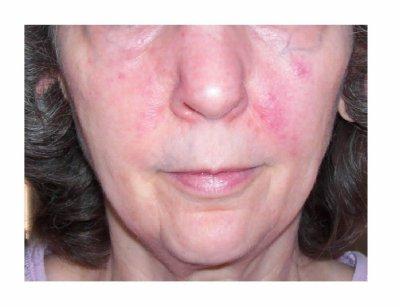 Just after using Glimpse . . . YIKES!
Day 1 - 10/28/08 Face turned very red for about one hour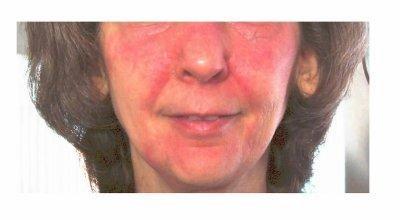 My face turned red like this just once. Read why below.
Rather than producing a cosmetic effect as is the case with many traditional skin care products with synthetics, fillers, silicones and occlusive emollients…These formulas allow your skin to breathe and support an optimal state of well-being. The formulas are
active, biologically alive compounds that you may actually feel on your skin the first time used
.
It is pure nutrition for the skin.
This can manifest itself in an initial flushing of activity. This active performance is positive – just like after you exercise, you get a slight flushing of oxygen and activity to your skin. This rare flushing is just the same - true exercise for your skin delivering oxygen that brings results! If you experience this flushing, it usually subsides in just a few minutes and after several days of use, goes away completely.
Day 1 - One hour after using Glimpse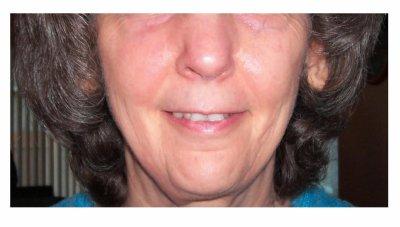 I love this product! You can't even tell I have Rosacea now!
No toxic chemicals - clean and green.
My skin looks soft and smooth and is super hydrated.
Day 14 ~ 11/11/08 ~ No makeup!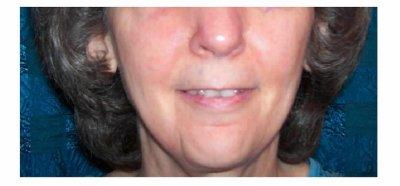 Day 16 ~ 11/13/08
With mineral makeup!